Ayazi and 3R USB Renaissance launch!
Ideon audio succeeded to offer one of the best sounds of the Athens high-end show as most of the visitors commented, and more importantly in a room which was not easy to set up acoustically!
We would like to thank you, for your enthusiasm and impressive comments about our products and the complete digital playback solution we presented.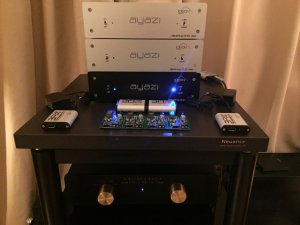 3R USB Renaissance was sold out from the first day of the show, as it was greatly recognized in transforming digital playback into a high-end experience. Thank you for that, as well!
We would like also to thank our partners who helped us setting up such a highly musical system, and especially Philippe Watel – the musiCHI audio player author – for his efforts to optimize our source!
The system.
Source: Windows 10 PC with musiCHI client-server edition, Audio Optimizer and Fidelizer
Dac: Ideon Audio Ayazi dxd high definition
USB Signal redriving: Ideon Audio 3R USB Renaissance, re-driving, re-clocking, re-generating device
Pre Amp: Borbely Audio
Power Amp: Bonnec Alto
Speakers: PMC 26