Ideon Audio is a boutique audio systems manufacturer of extreme performance digital sound equipment.
The sonic goal: to offer products which reveal the music hidden within the digital data, in other words, transport us to the recorded musical event: fully extended frequency range, real-life dynamics, clarity, and detail.
To achieve these results, all our products are in-house, proprietary designs, built without use of off-the-shelf modules.
Our 360 manufacturing concept pervades the manufacturing process down to the choice of highest-standards materials and production partners
use of state-of-the-art technology and the best components available without cost compromise
testing takes place throughout the production process and the devices are hand-assembled in their final stage
We revel in the sound of music. We believe the act of listening to music should be a transcendent experience.
An audio system should be capable of connecting us to the musical event and allow us to participate effortlessly in that event…
Most of all, it should be capable of stirring our emotions.
We strive to make digital sound accessible to all.
In this context accessible means,
to make digital music files sound as good as they can and
to make our products accessible for all, from entry-level to extreme-performance systems
The reasoning behind these two premises is simple: on the one hand, careful design using the best or the right components will lead to good sound — as good as the mastering, that is. This is the foundation for example, of our flagship DAC, the Absolute, and the Absolute Suite products.
In order to achieve this sound Ideon Audio developed its own design technology which is present in all our audio devices: war against electrical noise, voltage & current stability under load, war against any phase inconsistencies.
This design philosophy pervades all our designs:
fully linear internal power supplies
abundant ultra-low noise and ultra-stabilised power,
dedicated lines powering critical circuit points,
persistent signal re-clocking,
isolated signal inputs and stabilised, hi-current, outputs, and
meticulous choice of audiophile components throughout.
We simply want our products to be the best, in absolute terms and best in class.
…A team of audiophile music lovers with high sonic aspirations and large music libraries, which explains our fixation with extracting the last bit out of our music files.
The founding team comprises an inspired engineer with a proven track-record in digital audio circuits design and exceptional research into power supply design, two top-level corporate executives, and an IT company of security & home automation offerings.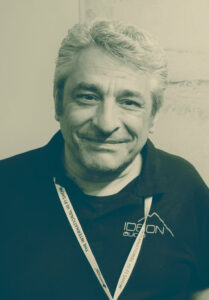 Vassilis Tounas, VP
An award-winning pioneer in circuit design, Vassilis is extraordinarily creative; he put together his first project — a FM transmitter — aged 14, and his own automation chip a few years later. Vassilis studied electronic engineering in Athens and, early on, discovered his avid interest in audio applications. This led him to focus his professional career in audio and video; he designed midi peripherals for Amiga (an erstwhile hardware constructor in the designs 80s), a few years later he built his first DAC in 1990.
In recent years Vassilis began keenly researching the chip technologies, power supply applications, and components, and how these affect sound. The results of this on-going pursuit are implemented in all Ideon Audio devices and, lately, culminated in the Absolute Suite front-end.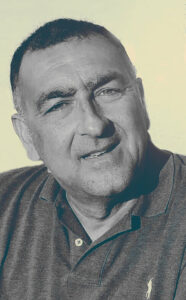 George Ligerakis
George loves innovating and creating great customer experiences. He is a senior executive and entrepreneur with 25+ years of experience in IT and the mobile apps Industry, as well as one of the first Internet pioneers and a Microsoft "veteran". He is a music lover since he was a child and an "audiophile" since his very early professional years. In fact, he can't remember a single day in his life without listening to music. George is an active contributor on sound tuning the Ideon Audio's products, shaping also the strategic roadmap for product development.
He is passionate about the creation of life-like sound from digital audio, which is the main goal of the Company's efforts. He has studied mathematics, cognitive psychology, business administration and strategic management. In his spare time, he loves listening to music and designing high-end audio systems, doing freediving or running long distance races and spending time with his family.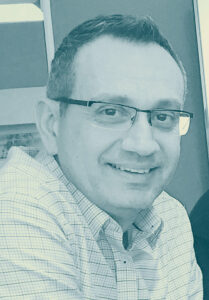 Angelos Gallis
Global Expansion Consultant
Angelos is an IT and business professional with more than 25 years of experience as a senior software architect, entrepreneur and C-level executive. He has worked on innovative applications development projects and human-computer interfaces design since the very early stages of the Internet and the mobile World. He loves music and has a passion for designing systems and processes that "make things happen".
He holds a Computer Science and an MBA degree. All these make the right combination to make his contribution extremely valuable for Ideon Audio's products development and global expansion roadmap. His interests include, Internet of things, artificial intelligence, digital music performance optimization, listening to real music and trekking.